Fitness Clubs, Studios & Boutique Fitness Centers
Differentiate your facility with a unique training tool that your members will love.
Member Benefits:
Muscle Tone – reACT delivers highly efficient lower body strengthening and toning. Because it avoids "impact eccentric loading," the system rapidly fatigues all the muscles in the lower body, resulting in increased muscle mass with just 2 – 3 five-minute sessions each week.
Weight Loss – One session of eccentric training significantly increases resting energy expenditure, consumes more calories, and burns fat more effectively. What's more, reACT can improve blood lipid profile and decrease insulin resistance.
More Efficient Workouts– reACT makes it possible for members to utilize their time in the gym more effectively and reach their goals more efficiently. Members quickly experience a difference within just a few sessions!
Chronic Conditions – reACT supports members who seek to address health concerns such as diabetes, heart disease, and osteopenia/osteoporosis.
Musculoskeletal Injuries– Non-impact eccentric conditioning is perfect for middle-age members who are prone to injury, yet want to enjoy an active life as they age.
Athletic Performance– For both serious and backyard athletes, reACT offers high-performance conditioning to stay in shape during off-season.
Fit reACT Seamlessly Into Your Club:
Workout Flow – Service 6-8 members per hour.
Services all Ages – reACT is customizable for all ages and fitness levels.
Staff Training – reACT provides a full suite of digital and in-person education options to get your entire staff trained on the equipment.
Professional Training – reACT offers a wide range of training options for sports trainers, personal trainers, physical therapists, and movement professionals.
Training Videos – Our library of educational videos demonstrate all aspects of operating reACT. Our progressive training series covers all specific reACT positions, exercises, teaching techniques for trainers, and best practices for introducing reACT to club members.
For more information and instructional videos, click here.
Overview
Validated by years of eccentric research and development, reACT Strength Trainer represents a paradigm shift in strength training. reACT provides zero impact anaerobic exercise, rapid strength gains, along with improved balance and core stability in just minutes per session.
Benefits
Improved Core Strength & Stability

 

Rapid Increases in Strength & Power
Improved Balance & Coordination
Zero Impact Conditioning
Specs
Base Size
7.5 ft x 3.5 ft
2.3 m x 1.1 m
Electrical
110 V/220 V
2 USB Ports
Warranty
Frame 7 yrs
Mechancial 3 yrs
Electronics 2 yrs
Wear Items 1 yr
Labor 1 yr
Download the reACT Trainer Brochure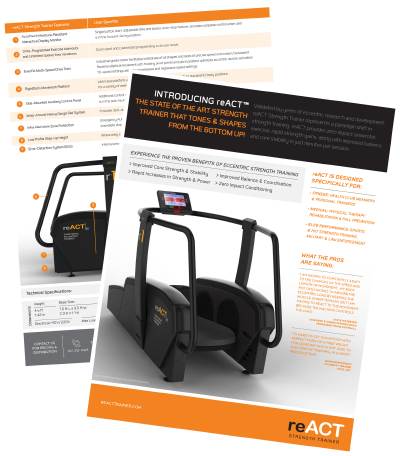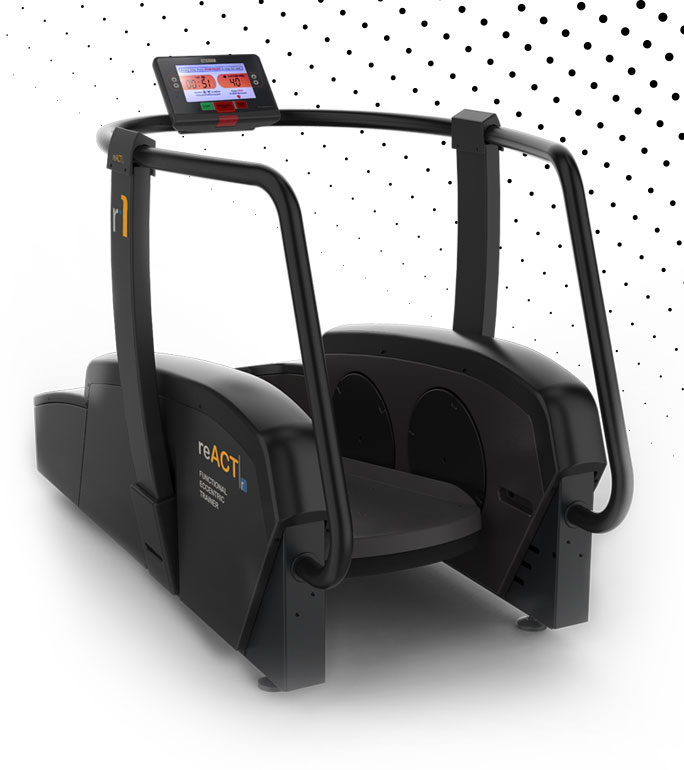 Locations
Bay Club in El Segundo, CA
Bellingham Athletic Club
Estrada Fitness
Evans Fitness
Gold's Gym
Gunnar Peterson Studio in Beverly Hills, CA
The Forum Athletic Club
Hockessin Athletic Club
Lifetime Fitness
One Life Fitness
Seacoast Fitness Clubs
Sport and Health
Unbreakable Performance in Hollywood, CA
Workout Anytime (171 Locations)
Videos
reACT Trainer Testimonials
Workout Anytime, Kannapolis, NC
Comprehensive Guide to the reACT Trainer
General Sales Inquiries
1-800-200-3869
770-809-1422
Monday-Friday, 8am-5pm PST
Product Support
1-800-200-3869
770-809-1422
Monday-Friday, 8am-8pm PST
Main Office
2325 Lakeview Parkway
Alpharetta, GA 30009