Training & Education
Learn to deliver a wide range of benefits to a variety of users – from deconditioned seniors who need to build strength to elite athletes who need to enhance their agility.
You'll also discover the science behind reACT – how it forces muscles to absorb the eccentric load under tension and how it trains the body to react to the movements.
Learning Suite
Training Tools– Our suite of instructional videos, recorded webinars, and written guides allow fitness, conditioning, and medical professionals to get the best results for their client base.
Principles and Techniques– Short, easy to understand videos highlight key principles and techniques to teach proper form and optimize the benefits of the reACT Trainer.
Webinars– The science behind eccentric training with the reACT Trainer is detailed in our recorded webinar, "The Science of Eccentric Training."
Workshops– reACT Fitness offers onsite workshops for group training within your organization.
For more information or to schedule a workshop or training event, please use the contact form below.
Overview
Validated by years of eccentric research and development, reACT Strength Trainer represents a paradigm shift in strength training. reACT provides zero impact anaerobic exercise, rapid strength gains, along with improved balance and core stability in just minutes per session.
Benefits
Improved Core Strength & Stability

 

Rapid Increases in Strength & Power
Improved Balance & Coordination
Zero Impact Conditioning
Specs
Base Size
7.5 ft x 3.5 ft
2.3 m x 1.1 m
Electrical
110 V/220 V
2 USB Ports
Warranty
Frame 7 yrs
Mechancial 3 yrs
Electronics 2 yrs
Wear Items 1 yr
Labor 1 yr
Download the reACT Trainer Brochure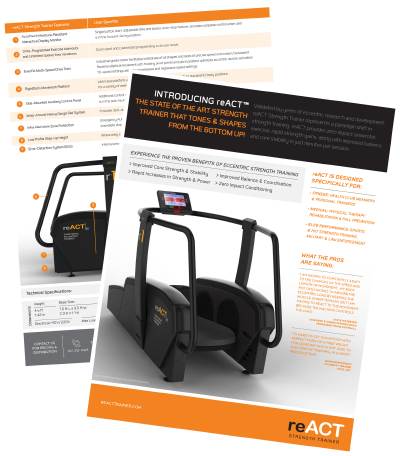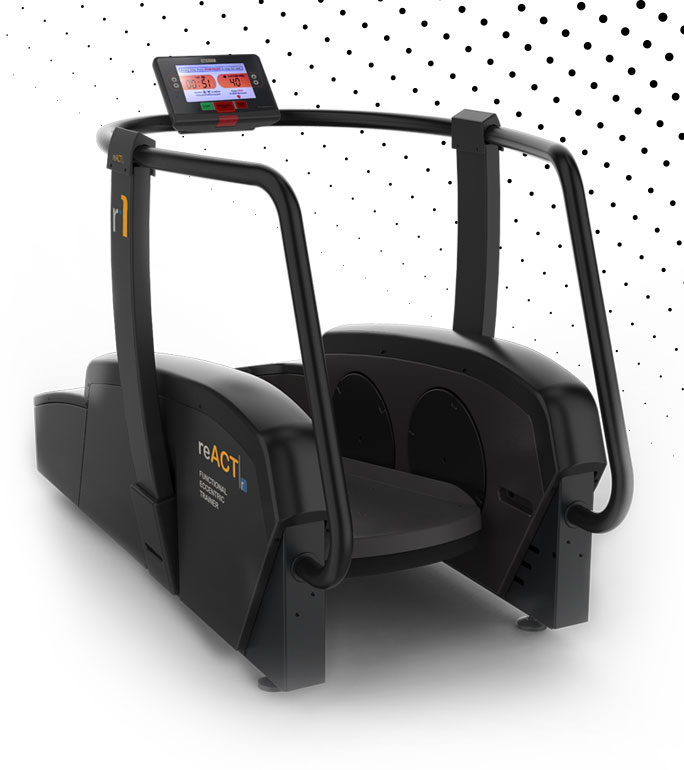 Videos
Starting Speed and Basics of Proper Form
What is Happening as You Use the reACT
Reverse Elliptical Movement
How to Manage the Work/Rest Ratio
Stability Challenge: Progression to Hands-Free Usage
Common Error: Slowly Lowering Center of Gravity
Advanced Exercise: How to Change Exercises While Moving
Advanced Exercise: Ball Throwing Drill
Advanced Exercise: Ball Thrusters
Advanced Exercise: Warding Drills for Core
Advanced Exercise: Band Drills
Advanced Exercise: Split Squat
Comprehensive Guide to the reACT Trainer
General Sales Inquiries
1-800-200-3869
770-809-1422
Monday-Friday, 8am-5pm PST
Product Support
1-800-200-3869
770-809-1422
Monday-Friday, 8am-8pm PST
Main Office
2325 Lakeview Parkway
Alpharetta, GA 30009